Our 2nd annual egg drop was a success! Students and parents enjoyed watching the eggs drop!
Our winners from each grade, had an egg survive and spent the least on their design.
Kindergarten had four winners with each spending $10: Dalila, Jaylah, Ivan, and Aaron
1st Grade had the least expensive device at $8 and the winner was Allison!
Kameela won the 2nd grade challenge and spent $9.
3rd grade also had four winners who each spent $16: Liam, David, Amy, and Isaura.
The 4th grade winner was Gael who spent $14.
Isabella won the 5th grade challenge spending just $8.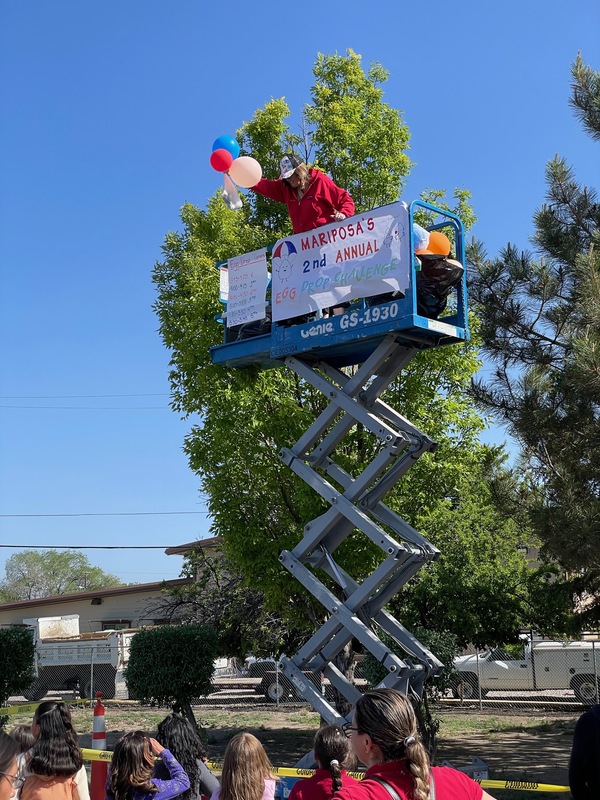 ¡Nuestra segunda entrega anual de huevos fue un éxito! ¡Los estudiantes y los padres disfrutaron viendo caer los huevos!
Nuestros ganadores de cada grado sobrevivieron un huevo y gastaron menos en su diseño.
El jardín de infantes tuvo cuatro ganadores y cada uno gastó $ 10: Dalila, Jaylah, Ivan y Aaron
¡El primer grado tuvo el dispositivo menos costoso a $8 y la ganadora fue Allison!
Kameela ganó el desafío de segundo grado y gastó $9.
El tercer grado también tuvo cuatro ganadores, cada uno de los cuales gastó $16: Liam, David, Amy e Isaura.
El ganador de cuarto grado fue Gael, quien gastó $14.
Isabella ganó el desafío de quinto grado gastando solo $8.