Mariposa October Magic Note Nota Magica de Mariposa del Mes de Octubre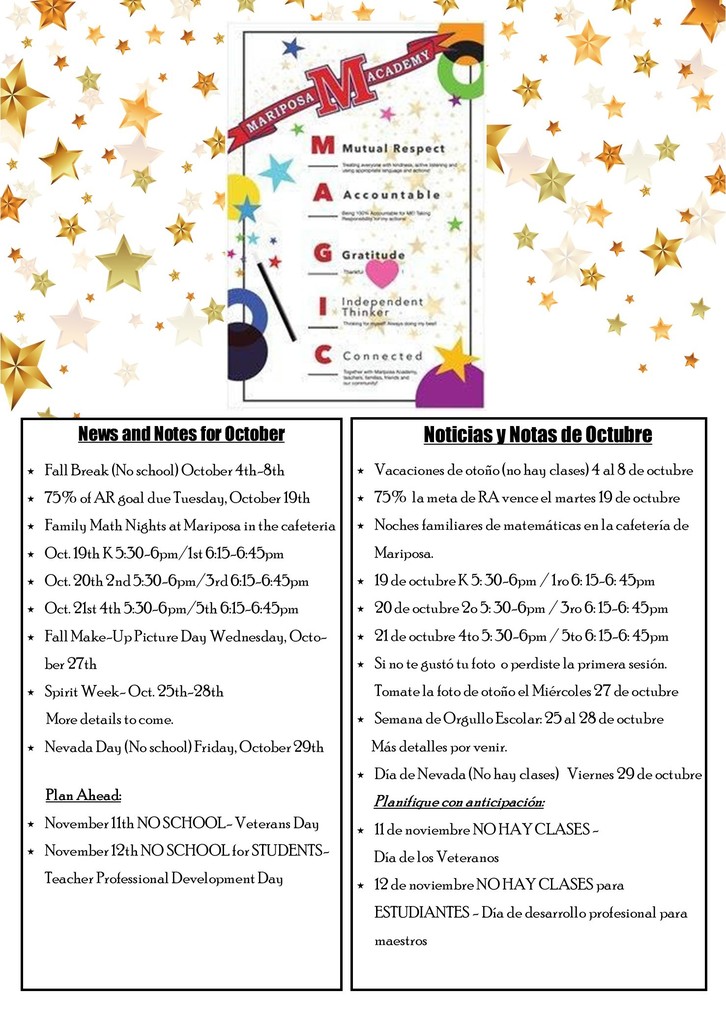 Congratulations to our Mariposa App download winner! You can pick up your prize at pick up line. Bring your winning ticket to claim your prize. WOOHOO! ¡Felicitaciones a nuestros ganadores de la descarga de la aplicación Mariposa! Puede recoger su premio cuando pase por su estudiante. Traiga su boleto ganador para reclamar su premio. ¡WOOHOO!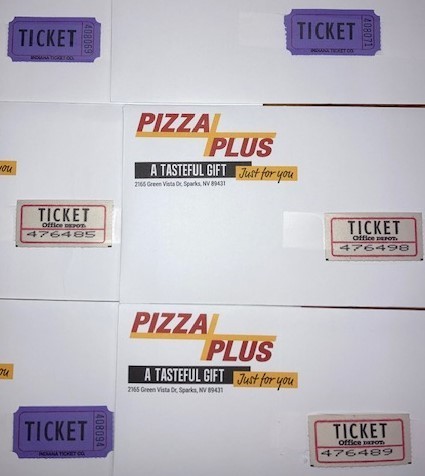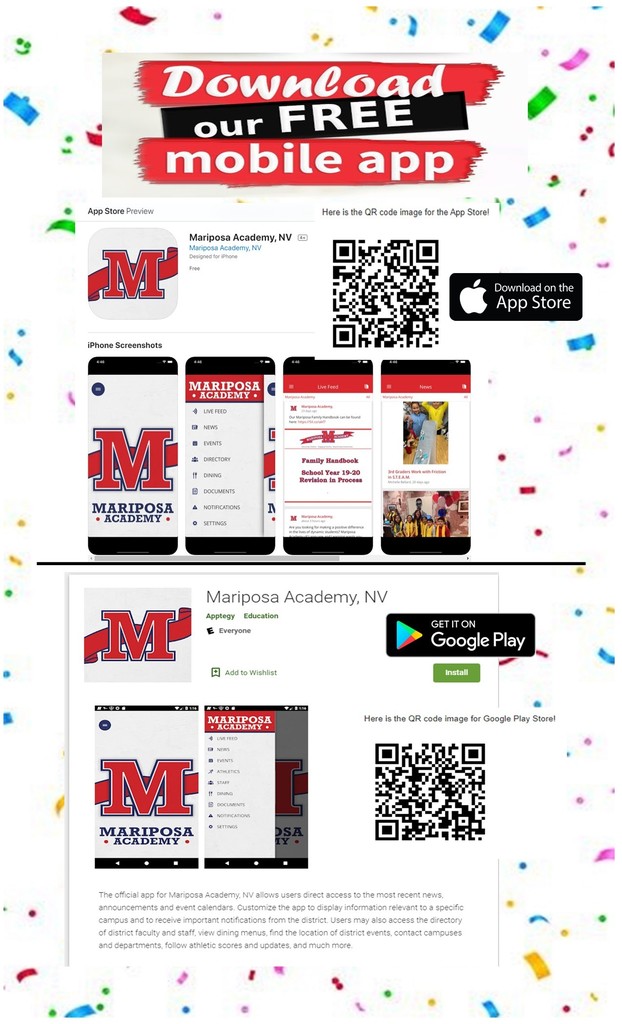 Stay connected to Mariposa!!! If you have the Mariposa App on your phone and show it to a staff member during drop off on Friday morning, you will receive a raffle ticket!

¡Mantente conectado con Mariposa! Si tiene la aplicación de Mariposa en su teléfono y se la muestra a un miembro del personal durante la entreda el viernes por la mañana, ¡recibirá un boleto para el sorteo!

Día escolar COMIENZA con APRENDIZAJE a las 8:00 am. Por favor planifique con anticipación para llegar a tiempo a la escuela. Su atención a llegar a tiempo muestra respeto por los maestros y el personal y también modela el valor de nuestro horario escolar para sus estudiantes.

A reminder that our school day BEGINS with LEARNING at 8:00am. Please plan ahead to be on time to school. Your attention to being on time shows respect for teachers and staff and also models value for our school schedule for your students.

Picture Day is Monday, September 20th! Dia de Fotos el lunes, 20 de septiembre!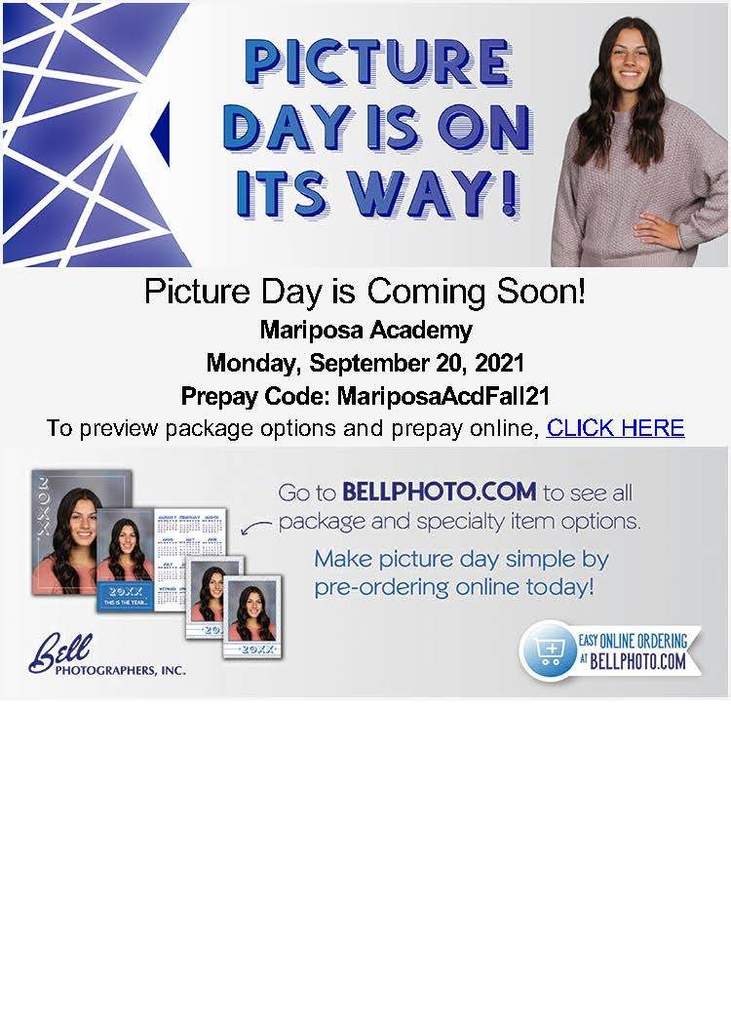 La semana de conferencias, tenga paciencia en la línea de recoger, se despedirá a TODOS los estudiantes al mismo tiempo. El seguir nuestro procedimiento de recoger es MUY importante para la seguridad de todos. Si tiene una conferencia a las 12:45 pm use el parqueo al otro lado de la calle. ¡Gracias!

For conference week, please be patient in the pick up line, we are dismissing ALL students at the same time. Following our pick up procedure is VERY important for the safety of all. If you have a 12:45pm conference park in the lot across the street. Thank you!

Hola familias de Mariposa. La semana de conferencias comienza el lunes 13 de septiembre. Todos los estudiantes saldrán de clases a las 12:30 toda la semana de conferencias. No hay TEAM UP. El Boys and Girls club estará disponible.

Hello Mariposa families. Conference week starts on Monday Sept. 13th. All students will be released at 12:30 on conference week. Please make the proper arrangements for pick at 12:30. There will be no TEAM UP. Boys and Girls club will be available.

Mariposa families no Team Up next week. Familias de Mariposa no verá programa de Team Up la próxima semana.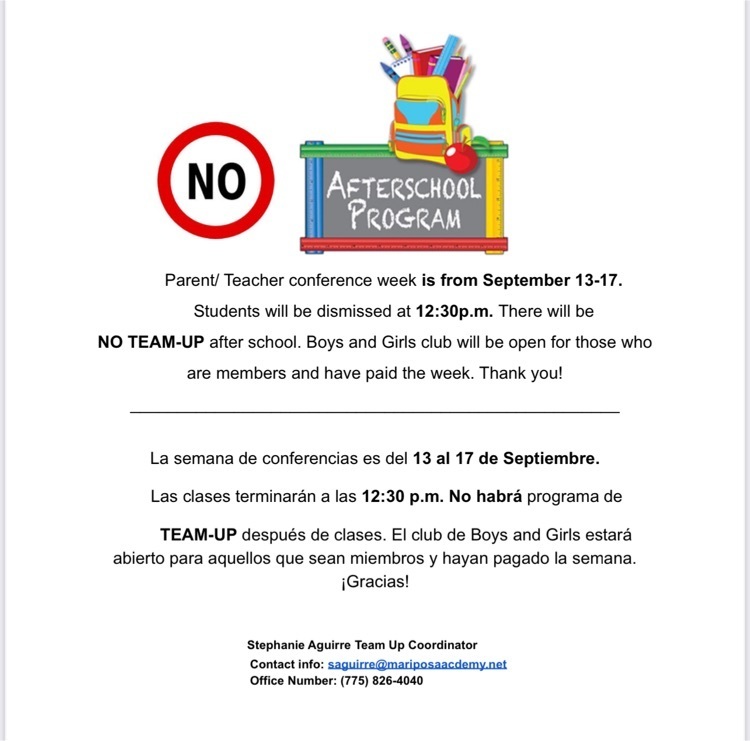 Hello Mariposa Families! Please visit our website
www.mariposaacademy.net
for our September Magic Notes. !Hola familias de Mariposa! Por favor revise nuestro sitio web para las Notas Magicas de Septiembre.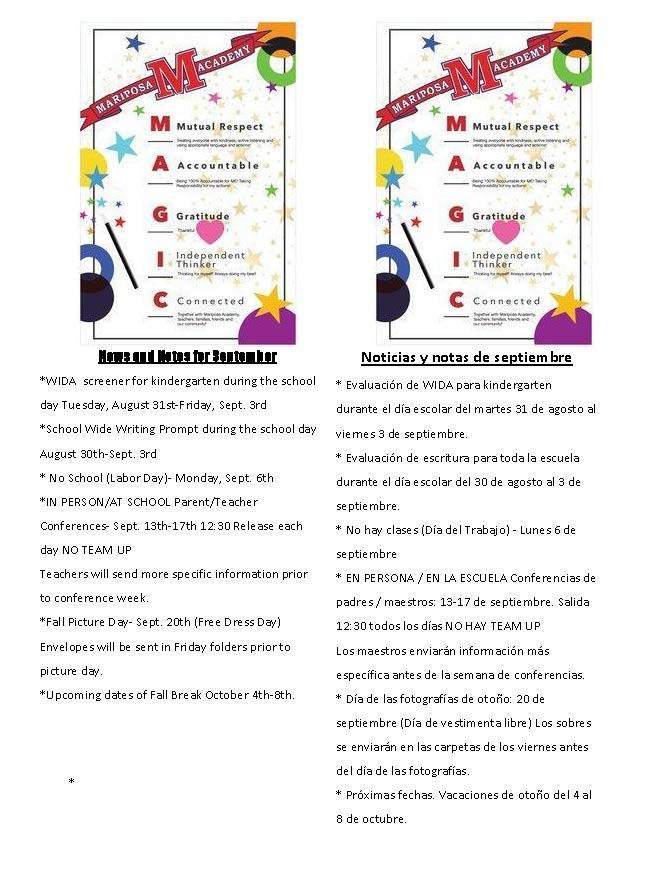 Mariposa's board is look for a parent member. Please contact the office at (775)826-4040 if you are interested.

Mariposa Academy is on a regular school schedule today, August 25th. Please drive safely and we will see you soon! Mariposa estará en un horario escolar REGULAR hoy, 25 de agosto! Por favor maneje con precaución y nos vemos pronto!
Buenos dias familias de Mariposa, Team Up comenzara hoy a las 3:00pm-5:30pm. Los horarios de Team up seran lunes,martes,jueves y vierenes de 3:00pm-5:30pm y los mierecoles de 1:30pm-5:30pm. Gracias.
Good Morning Mariposa families, Team Up will be starting today at 3:00pm-5:30pm. Team up hours will be M,T,Th,& Fridays from 3:00pm-5:30pm and Wednesdays from 1:30-5:30pm. Thank you!

Familias, Mariposa estará en un horario escolar REGULAR hoy, 24 de agosto para aquellos de ustedes que les gustaría enviar a sus hijos a la escuela. Vigilaremos de cerca la calidad del aire y mantendremos a los estudiantes en el edificio para actividades como el recreo y la educación física. Si su hijo camina a la escuela y necesita ayuda para llegar, llame a la oficina. Si le preocupa la salud de su hijo debido a la calidad del aire, llame a la oficina y mantenga a su hijo enfermo en casa hoy. Los maestros y el personal estarán en contacto con el trabajo de los estudiantes que se quedan en casa enfermos debido a problemas de salud. ¡Gracias y nos vemos pronto!