It is with a sad and heavy heart that I let you know that we lost a Mariposa family member, Azucena Herrera Sanchez. She is a parent, grandparent and friend of many at Mariposa and she has been an amazing support of our school community over the years. Azucena was a warrior and fought hard until the end. Please keep their family in your thoughts and prayers as they all navigate this unexpected loss and give if you are able to the Fund that has been set up for them. Es con un corazón triste y que les informo que perdimos a un miembro de la familia de Mariposa, Azucena Herrera Sánchez. Ella es madre, abuela y amiga de muchos en Mariposa y ha sido un gran apoyo para nuestra comunidad escolar a lo largo de los años. Azucena fue una guerrera y luchó hasta el final. Tenga en cuenta a su familia en sus pensamientos y oraciones mientras todos atraviesan esta pérdida inesperada y, si puede, contribuya al Fondo que se ha establecido para ellos.
https://www.gofundme.com/f/sq7ws-gastos-funerarios-funeral-cost?utm_campaign=p_cp+share-sheet&utm_medium=social&utm_source=facebook

Good morning, Mariposa Families. For the safety of our students please do not drop off students before 7:45AM. There are no duty teachers to supervise before this time and it's not safe to leave the students unattended. Thank you for helping us keep your student safe. Buenos días, Familias Mariposa. Para la seguridad de nuestros estudiantes, no los deje antes de las 7:45 a. m. No hay maestros de turno para supervisar antes de esta hora y no es seguro dejar a los estudiantes desatendidos. Gracias por ayudarnos a mantener seguro a su estudiante.

Great news....Mariposa is getting new flooring this summer!!! We need to "move out" for the project so we need boxes for packing. Please call the office if you have a pick up location or drop them by any time! Thank you! Buenas noticias... ¡Mariposa tendrá piso nuevo este verano! Necesitamos "mudarnos" para el proyecto, por lo que necesitamos cajas para empacar. ¡Llame a la oficina si tiene un lugar para recogerlas o dejarlas en cualquier momento! ¡Gracias! (775)826-4040

Families, please make proper arrangements to pick up your student as we have conference week and there is no Team Up all this week. Dismissal is at 12:30 pm. Thank you. Familias, Por favor hagan los arreglos necesarios para recoger a su estudiante ya que tenemos una semana de conferencias y no hay Team Up toda esta semana. La salida es a las 12:30 pm. Gracias.

Families don't forget we do not have Team Up today. Please make sure to pick up your child at 12:30 pm. Thank you! Familias por favor de recorder que no hay Team Up hoy. Porfavor de recoger a su hij@ a las 12:30pm. Gracias!

Parent-Teacher Conference week is coming next week. May 22nd -26th. All students will be released at 12:30PM and there is NO Team UP. Please make the proper arrangements so that your student is picked up on time. Thank you! La semana de conferencias de Padre-Profesores es la próxima semana del 22 al 26 de mayo. Todos los estudiantes saldrán a las 12:30 y No Hay Team Up. Por favor asegúrese de hacer los arreglos apropiados para que su hijo sea recogido a tiempo. ¡Muchas gracias!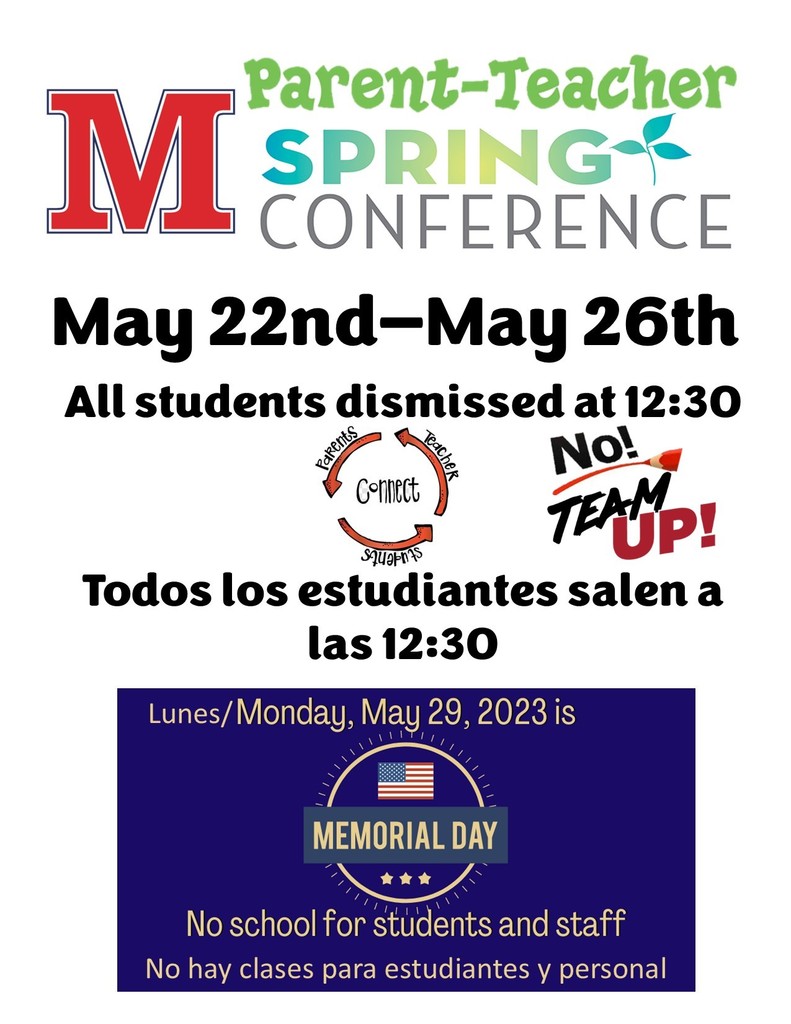 Families, if you would like to come and help us get ready for Block Party, we need help cleaning corn. Please come tomorrow, Thursday, May 18th at 8am and check into the office. Familias, si les gustaría venir y ayudarnos a prepararnos para el Block Party, necesitamos ayuda para limpiar los elotes. Presentese mañana, jueves 18 de mayo a las 8 am y regístrese en la oficina.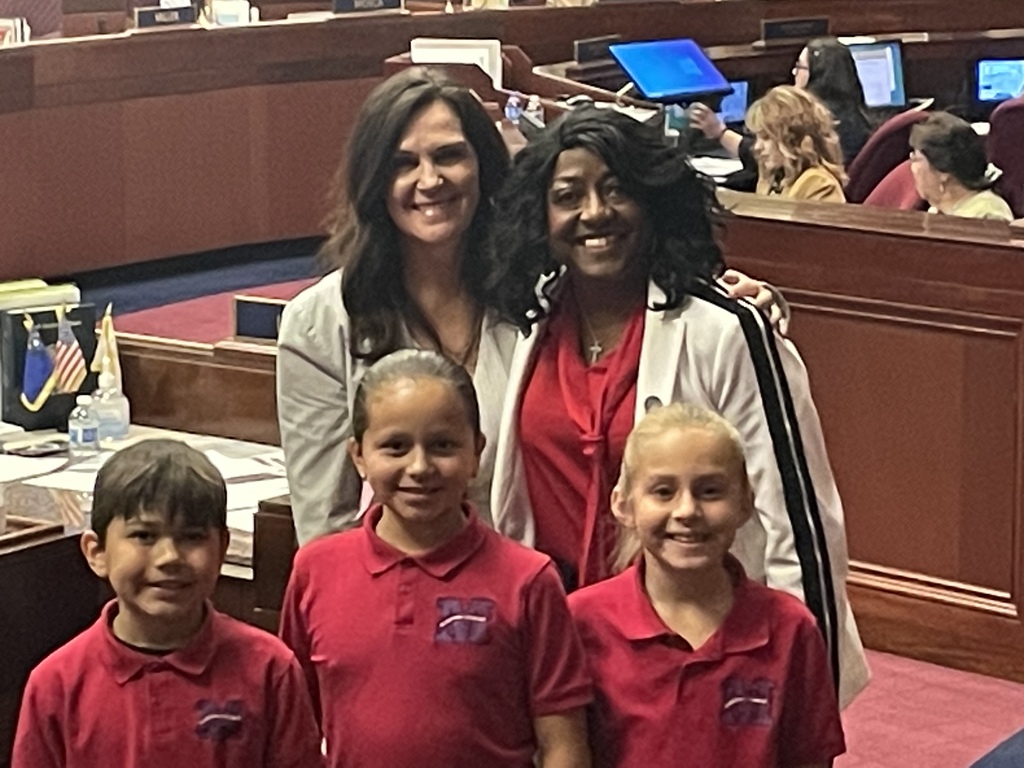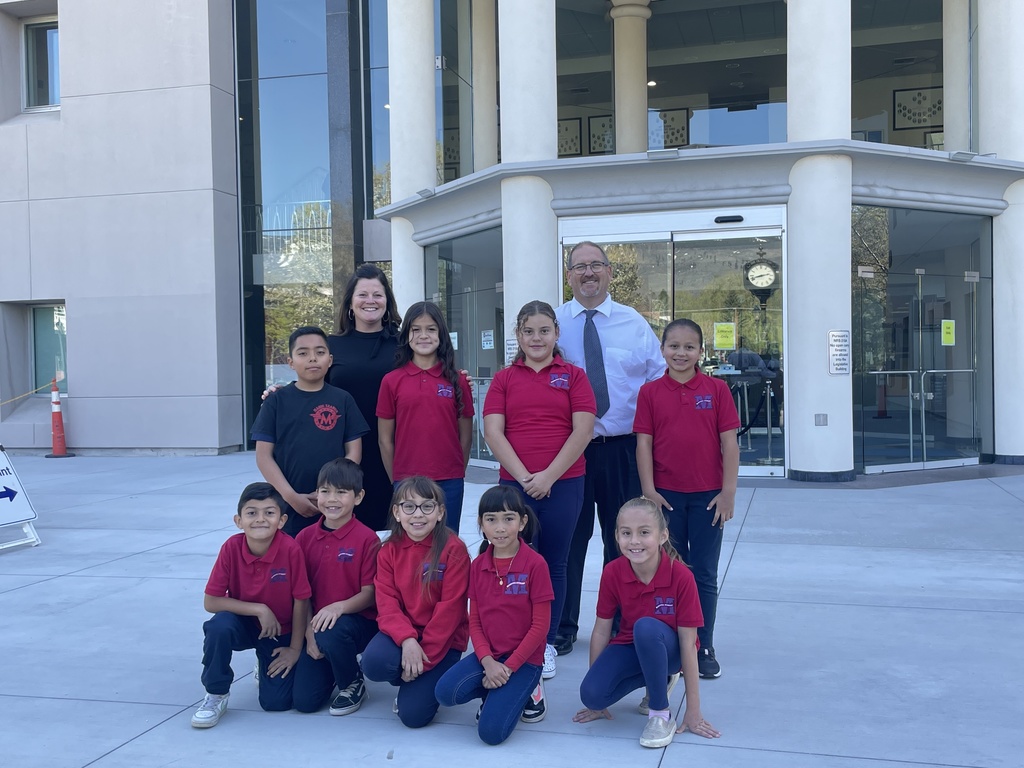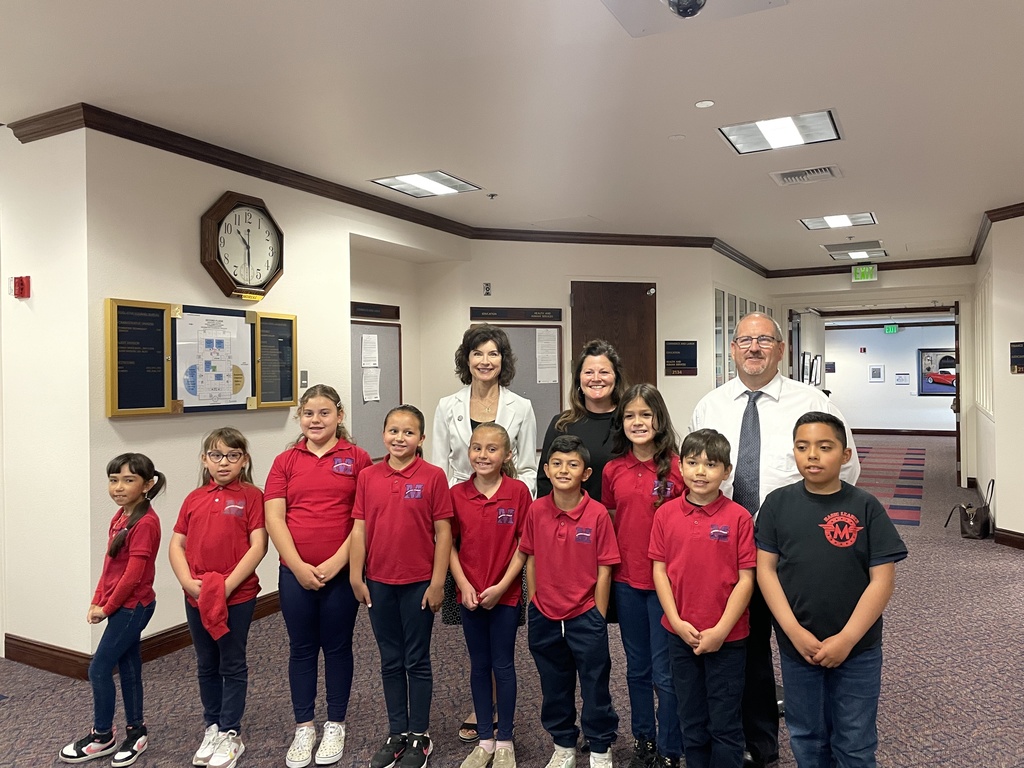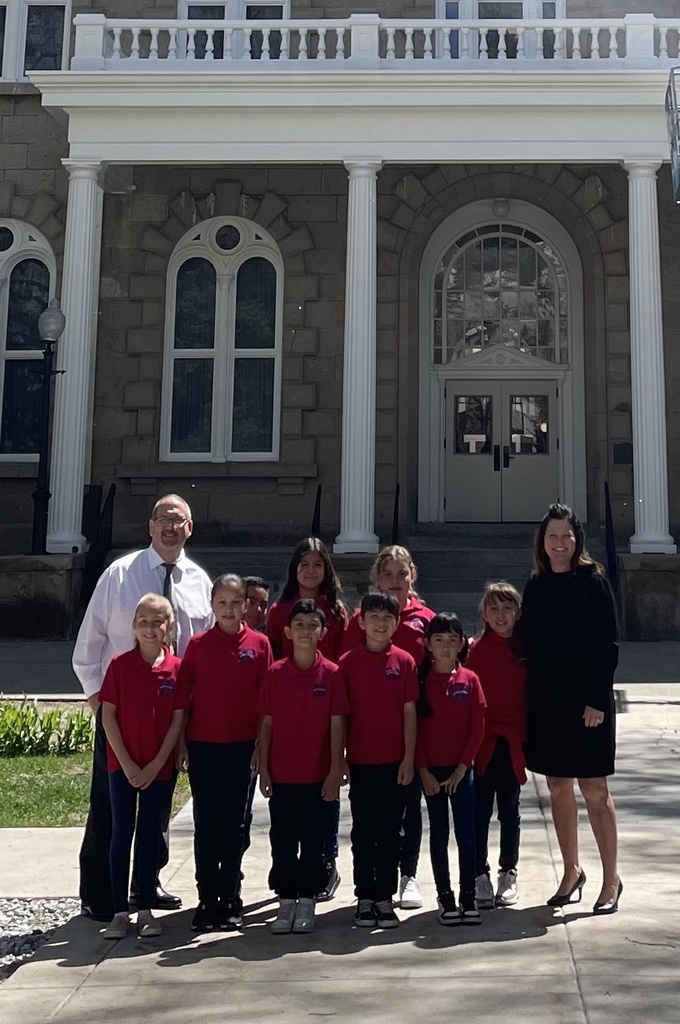 Staff Appreciation Week! Dress up to show your appreciation!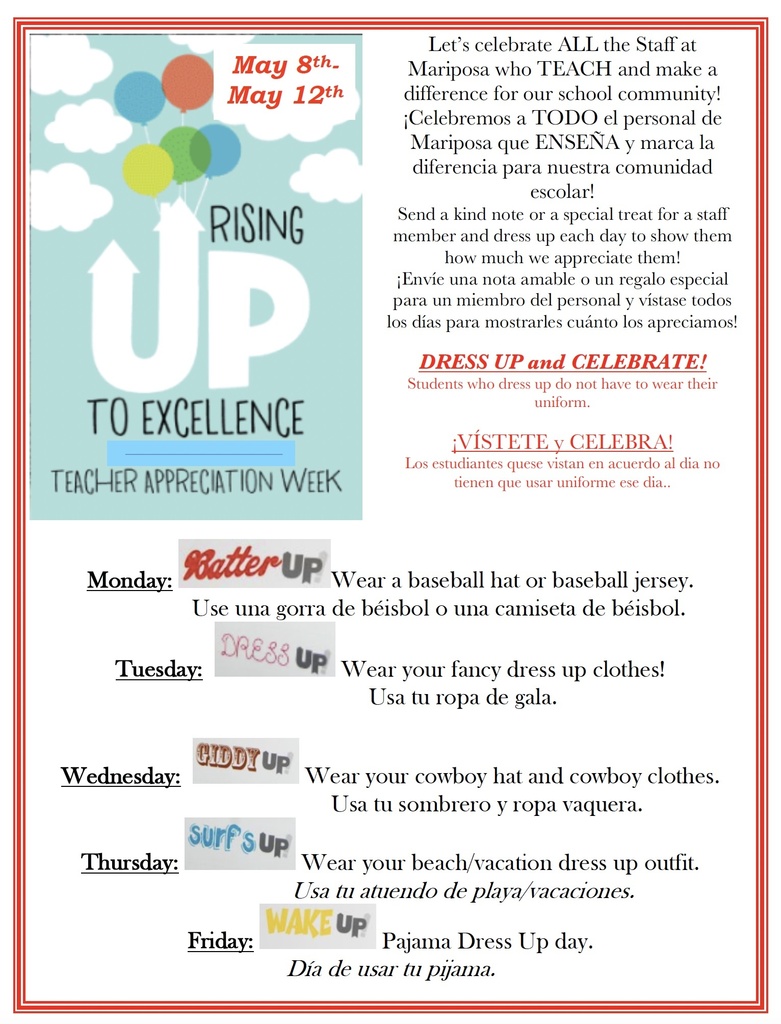 BLOCK PARTY Join us for a Magical afternoon filled with fun games, entertainment, and food. May 19th at 4:00pm-6:00pm Bring your family and friends to share in the festivities. Tickets will be sold for a $1 each at the event and will be used for food and games. We will take cash and credit cards for payment. LA FIESTA DE CUADRA ¡Acompáñenos a una tarde mágica llena de juegos divertidos, actividades y comida! 19 de mayo de 4:00pm a 6:00pm Traiga a su familia y amigos para compartir en las festividades. Los boletos se venderán por un dólar en el evento, utilízalos para comida y juegos. Tomaremos efectivo y tarjetas de crédito para el pago.


Let's appreciate our staff this week! Dress up and show appreciation!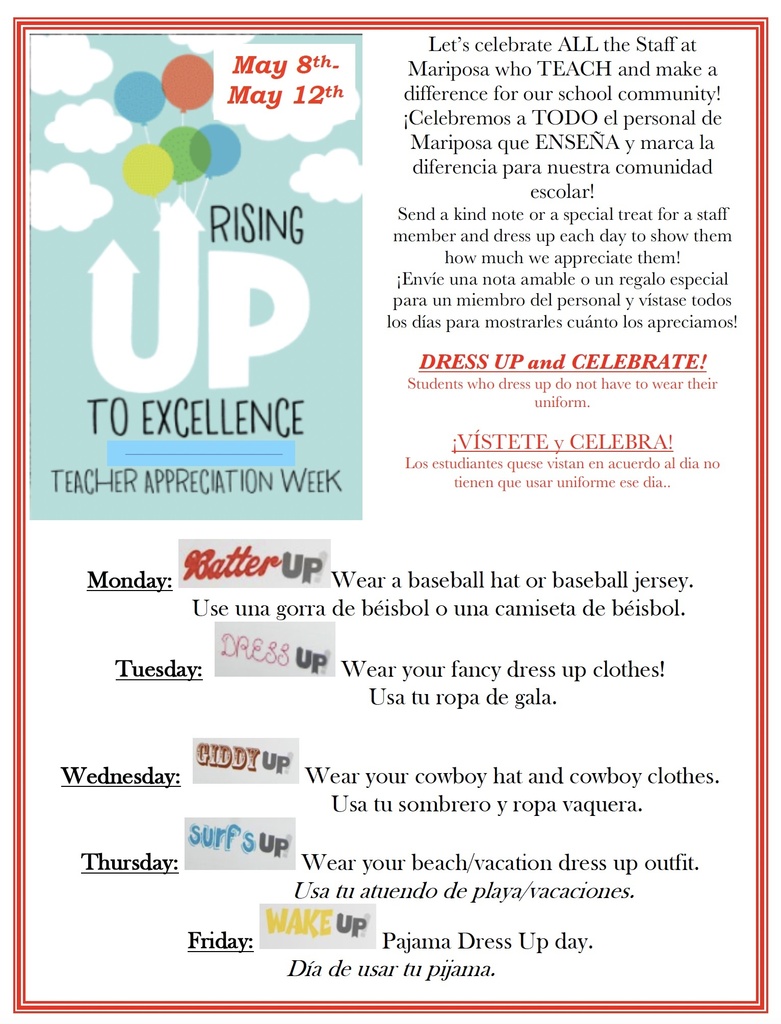 Be on time!!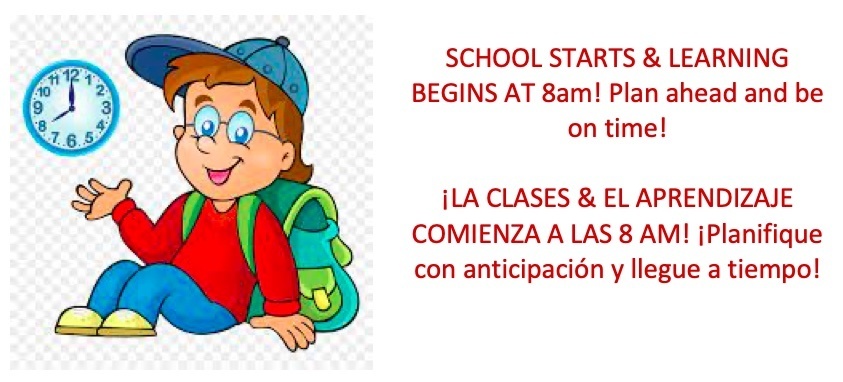 Kate's Logo Summer Uniform Sale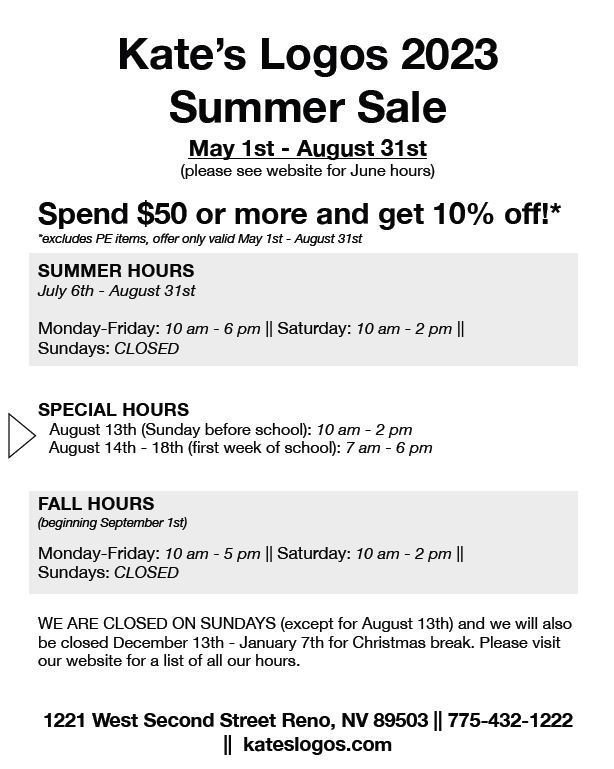 Standardized testing is right around the corner. Our students in grades 3-5 will take the SBAC. We will be administering our tests April 25th -May 11th. Please be on the look out for a letter that will be sent home with students. Nuestros estudiantes en las grados 3-5 tomaran el SBAC. Estaremos administrando nuestras pruebas del 25 de abril al 11 de mayo. Por favor manténgase alerta ya que se enviara una carta con su estudiante.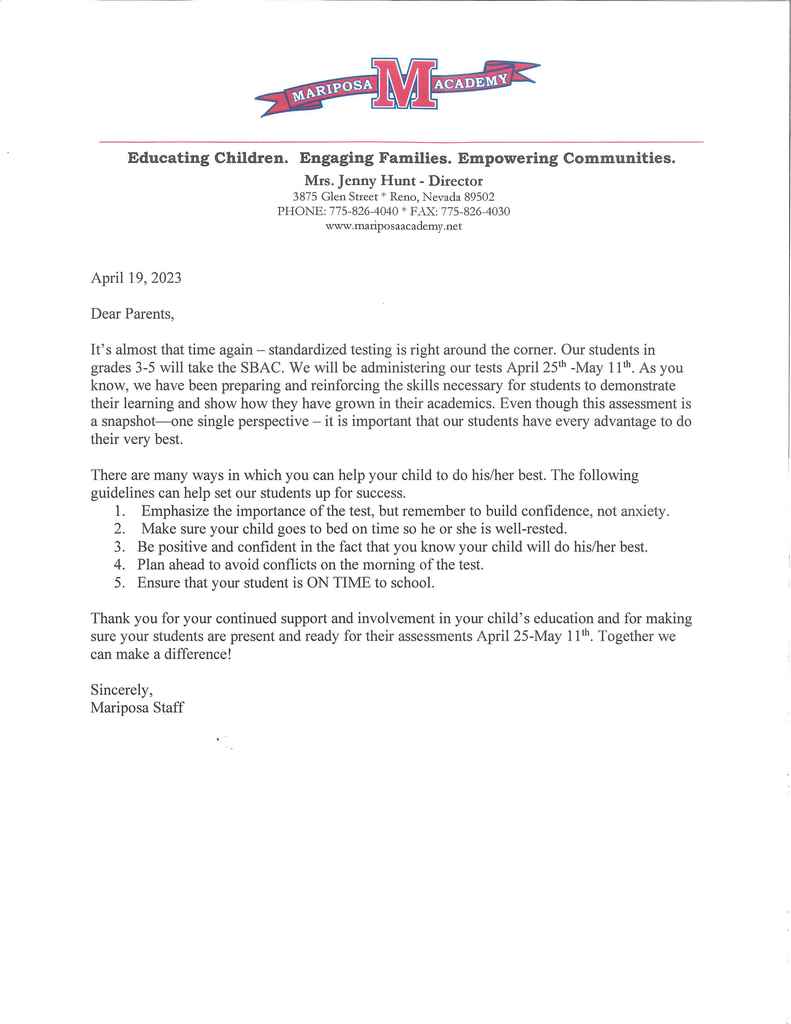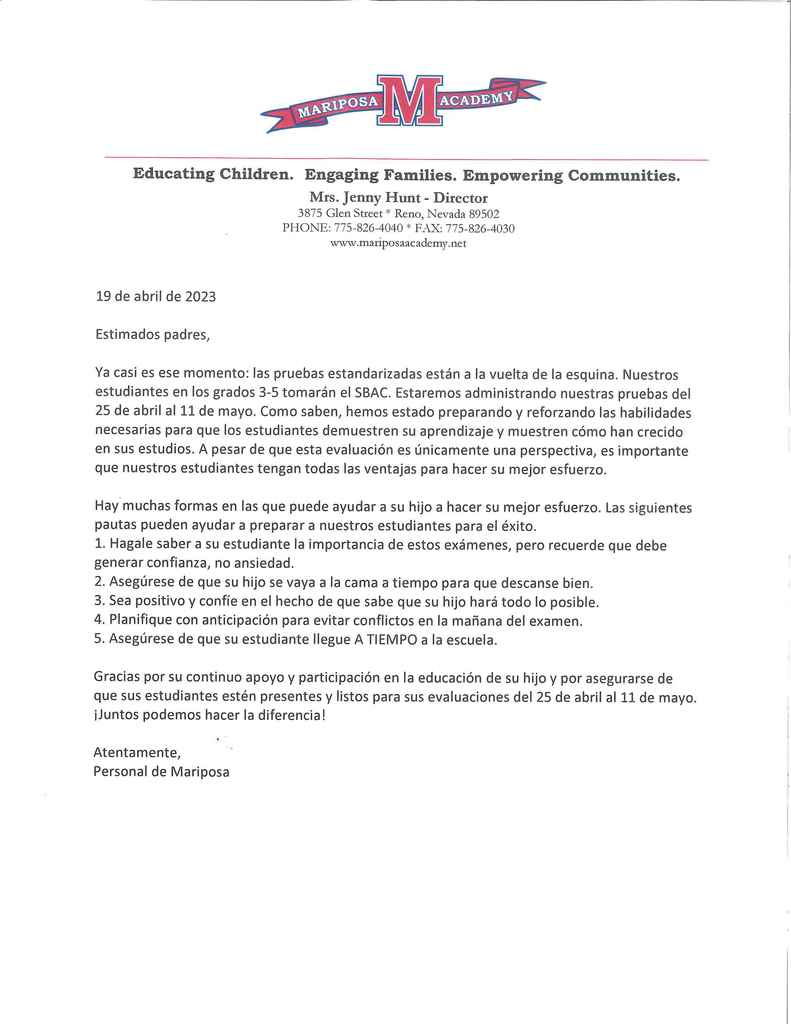 We need empty and cleaned out eggshells to make cascarones for our annual block party on Friday, May 19th. If you would like to donate your eggshells, please cut a small hole at the top (like in the picture below), empty and rinse out the inside of the eggshell, and bring them to the office in an egg carton NO LATER than Wednesday May 10th. We will be decorating and filling them the week before the block party!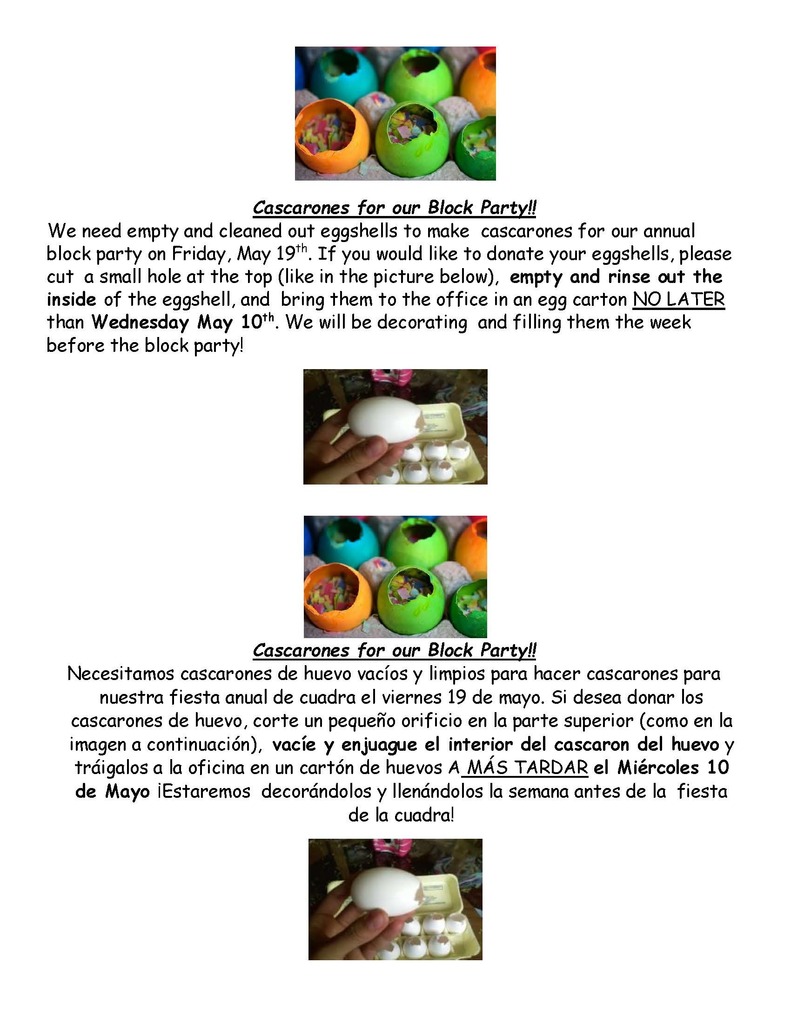 Remember, today is a teacher work day and students return TOMORROW, Tuesday, April 4th. See you tomorrow at 8am!

Enjoy your spring break March 20th- April 3rd. Students will return to school on TUESDAY, April 4th at 8:00 am. Disfrute de sus vacaciones de primavera del 20 de marzo al 3 de abril. Los estudiantes regresarán a la escuela el MARTES 4 de abril a las 8:00 am.

Spring picture day is Friday, April 7, 2023. Friday is a FREE dress day. Wear your best outfit and most of all you BEST Smile!